In recent years, technological advancements have given rise to artificial intelligence solutions. These solutions are applied in various areas, including education and marketing.
Strategies for actively engaging with your audience to foster a sense of connection and community that AI-generated content may lack
Content writing has traditionally been oriented towards humans. This statement means humans have long been involved in writing content for various reasons, including marketing and education. However, writing has been revolutionised due to the AI era. Increased challenges like reduced human appeal and risks of student plagiarism mark content writing in the Ai era.
These challenges define the weaknesses associated with using artificial intelligence. While AI has offered a faster way of writing content, the resulting material has limitations that reduce audience engagement.
The audience is concerned about consuming content with a positive appeal and originality. This article speaks about content writing in the age of AI while outlining differentiators that limit the relationship and appeal with the target audience.
Weaknesses and differentiators that matter: Limited creativity: AI-generated content falls short in engaging the audience
Artificial intelligence has offered new opportunities for delivering content and engaging with each other. In education, artificial intelligence solutions like chatGPT and Jasper AI have offered learners an opportunity to explore new avenues for gathering evidence.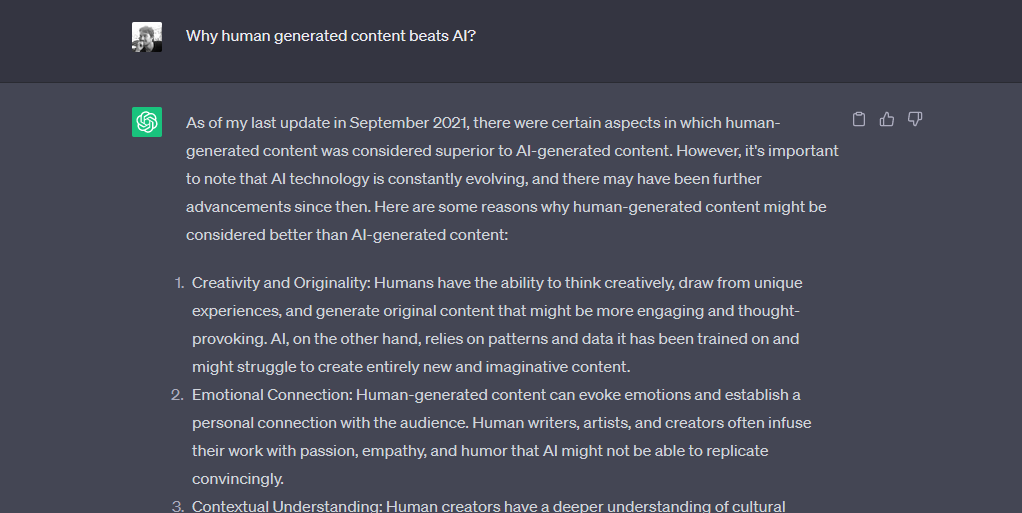 One benefit associated with these solutions is the ability to create content within a short duration. However, AI-generated content using these avenues, including chatGPT, is associated with weaknesses that limit overall audience engagement. Many institutions, including universities, have limited and discouraged students from using AI resources in generating content.
Likewise, website and blog owners have continually sought human-like content because it has the necessary attributes that increase engagement traits with the target audience.
The rationale for this shift against AI content is associated with the need to create a strategic audience engagement platform. In overcoming this challenge, universities and institutions implemented content policies to guarantee human alignment with the presented resources.
Contextual understanding: enhancing comprehension and connection with the audience
While artificial intelligence has offered approaches for achieving better returns, the resulting content is not considered, primarily due to its attributes and appeal to the target audience.
"AI writing lacks creativity"
One differentiator that makes AI content unappealing is the absence of creativity. Content written by an AI engine like ChatGPT is associated with responses based on predefined past data elements. The resultant content is obtained by focusing on past data exposure.
AI models may produce varying content depending on the training data and generated patterns. Referring to the past data patterns reduces creativity since the models used are limited to the training data only as opposed to expanding knowledge through independent learning, as seen in humans.
Creative content appeals to humans since it is meaningful and aligns with their needs. However, AI-generated content is limited in creativity which may undermine its overall appeal to the audience.
Ethical considerations: maintaining originality and integrity in content writing
Secondly, AI-generated content needs more contextual understanding. The ideal content in marketing and education is marked with a high-level understanding of the context through which the reported ideas happen or occur. This attribute ensures that the resulting content best matches the target audience's needs.
Creating messages that contextualise the environments and settings is creative and ensures easy comprehension by the audience. In most cases, AI content is limited to machine learning concepts where the resulting messages lack or have insufficient cultural references, ambiguity or elements that define the community.
A real-world connection in the content is necessary for comprehension among the target audience.
Human-based content is drawn from real-world occurrences, sarcasm and other elements that create a positive message that best addresses the presenting needs.
Other examples of contextual understanding are comprehension of the information offered based on the settings through which the user operates, cultural awareness, strategic interpretations, interpersonal relationships and decision-making.
Most AI models need to be made aware of these elements, which reduces their capacity to generate content that best enhances human interactions. Therefore, this feature limits the ability to ensure maximum relationships with the target audiences.
The role of accuracy and consistency: human oversight for reliable content
Another issue to consider is ethics in content writing. Schools and other institutions are cautious about the originality of the content presented. In the school setting, student plagiarism is a vice that attracts severe penalties like suspension or dismissal from school.
Plagiarism is where an author passes ideas as their original creations without crediting the rightful owners.
Plagiarism is an unethical practice that undermines the ability to achieve the desired goals. Plagiarism affects the quality of the presented content, which may undermine the capacity to generate reliable and valid ideas.
Nurturing emotional intelligence in content: bridging the gap with the audience
Similarly, AI content cannot generate accurate and consistent content. Most AI models like ChatGPT have created content with multiple errors, inaccuracies and gaps that undermine the resulting messages' quality.
This statement implies that these systems need to be more intelligent to generate accurate and reliable content without errors or omissions and may require human input and oversights. This attribute limits the effectiveness of the resulting content since it is only dependable with human input.
On the other hand, AI-generated content may have limited emotional intelligence. The absence of emotional intelligence undermines the ability to comprehend and integrate cues that define humans and their foundational interactions.
The absence of emotional intelligence leads to the creation of restricted content in the fundamental human cues and behavioural traits like humour and irony. This absence undermines the ability to create a reliable engagement with the target audience. Human-based content considers these elements, making creating an engaging interaction during delivery easy.
AI content, while easily generated, is limited in its capacity to create an emotional appeal to the audience due to its weakness in understanding human attributes. For example, AI models fail to acknowledge emotional intelligence in various ways.
One way is the absence of empathy; as an AI model, tools like ChatGPT do not express empathy regardless of the nature of the information provided. Also, such tools need to integrate self-awareness traits.
Self-awareness creates an emotional connection between users and the content.
Conclusion: cultivating authentic audience connections in the AI era
While artificial intelligence has offered strategic options for creating content within a short time, the resulting messages may need to improve their ability to create an appealing engagement with the target audience.
Artificial intelligence models like ChatGPT have a strategic feature that enables them to achieve better results in content generation. However, the content needs more strategic features limiting its emotional connection to the target audience. Human engagements are rooted in their relationships and emotional appeal.
AI-generated content lacks this attribute which makes it impossible to create emotional relationships. Also, this content is primarily discouraged in academia due to plagiarism and unethical practices when generating ideas.
Students are encouraged to use ethical practices when interacting with solutions like ChatGPT to reduce plagiarism risks and guarantee the presented ideas' validity. For AI content to appeal to the target human audience, strategic features like emotional intelligence and contextualisation must be integrated into the models used.